Amy was an Aves   assigned to Flight Group 1 (a.k.a. Alpha Flight a.k.a. The Burning Skies [informal]) on the Pathfinder Ship Pegasus . Its aviator was Flight Lieutenant Mayte Aramburuzabala of Republic.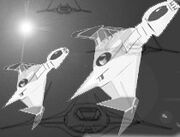 MIssions
[
]
Amy conveyed a landing party to the planet Hearth after emerging unscathed from the Battle of Bodicea . (Book 03: Bodicea )
Amy participated in salvage operations in the 12 225 Crux system. (Book 06: Crucible )
Amy crashed on the planet Fallon while ferrying 27 crew for shore leave. (Book 08: Hellfire )
It was succeded by the Aves Amy II.