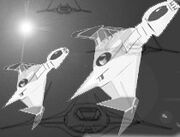 Kate was an Aves  assigned to Flight Group 2 (a.k.a. Beta Flight a.k.a. The Hellblazers [informal]) on the Pathfinder Ship Pegasus . Its aviator was Flight Lieutenant Paul Ironhorse of Sapphire.
Mission
[
]
Kate transported a landing team to EdenWorld Colony. (Book 03: Bodicea )
Kate was destroyed in System 12 225 Crux while attempting to recover the Pathfinder Ship Lexington Keeler. It was replaced by the Aves Kate II.